Corso di dottorato in Tecnologie Convergenti per i Sistemi Biomolecolari - Annual meeting
Image

dal 23 al 25 settembre 2020, Università degli Studi di Milano-Bicocca
il PhD Meeting
Il meeting, che è ormai per noi una tradizione e al contempo una spinta al rinnovamento, dura 3 giorni e ha un duplice scopo: da una parte permettere ai Dottorandi di esporre la propria ricerca e conseguire il passaggio all'anno successivo o all'esame finale, dall'altra ha una valenza formativa. Ogni anno viene scelto un argomento di interesse trasversale e vengono invitati relatori esperti che possano introdurre la tematica ma anche declinarla nelle sue eventuali applicazioni.
Da qualche anno si è introdotta la tavola rotonda della terza giornata, dedicata alla carriera e al futuro dei Dottorandi, da intendersi nel senso più ampio ovvero quello di stimolare la riflessione su temi di interesse sui quali sviluppare una propria visione.
Come da regolamento interno e vista la presenza di studenti stranieri il Meeting si svolge interamente in inglese. 
XII TeCSBi PhD Meeting 2020
Quest'anno nonostante l'emergenza sanitaria, abbiamo deciso che non avremmo rinunciato al nostro appuntamento annuale.
E' stata una vera sfida, partendo dall'immaginare questo evento in una forma diversa dalle undici edizioni precedenti, al renderlo operativo tecnicamente. 
L'evento si è tenuto in modalità mista, da remoto, per quanto concerne i relatori e gli uditori, mentre abbiamo avuto l'avallo dell'Università per avere i dottorandi in presenza, cosa che tutti noi abbiamo ritenuto preziosa. È stato un buon compromesso, che da una parte ha corrisposto alla volontà di ritrovare il senso di comunità e dall'altra di mantenere la tranquillità e la sicurezza di tutti noi.
La collaborazione e la disponibilità di tutti, l'alto livello scientifico delle relazioni dei dottorandi e il prestigio dei relatori invitati hanno contribuito al successo dell'evento di cui andiamo molto fieri.
Ospiti ed eventi di rilievo
Image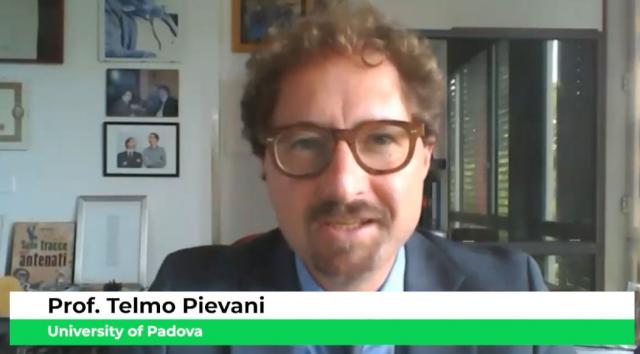 THE DARWINIAN LESSON OF COVID19
We should look at Covid19 through evolutionary lenses. The Darwinian lesson of the coronavirus is clear: we are vulnerable, we are connected to the rest of nature, the destruction of the environment turns against our health. Spillover pandemics don't come out of nowhere. They have specific ecological causes and human activities that increase their likelihood: deforestation, poaching, illegal trade in endangered animal species, etc. Viruses are biological entities much older than us and have basic and very effective evolutionary strategies. Moreover, eight billions humans have become perfect hosts for viruses, which travel with us by plane. On the other hand, viruses have four formidable opponents: scientific research (vaccines; Global Virome Project; atlas of pathogens); hygiene; social progress; and environmental protection. To defeat such an enemy, we have to put ourselves in its point of view, and understand its logic, an evolutionary logic.
Tavola rotonda
La terza giornata del PhD Meeting ha visto lo svolgersi di una tavola rotonda sulla Resilienza con ospiti di grande livello, moderati dalla Prof.ssa Sacchi
SIMONA SACCHI (University of Milano-Bicocca)
Role:  Associate professor
Academic disciplines: Social psychology
Research interests: Social perception of morality; Impression formation process; Social attention: the moderating role of social variables; Environmental psychology: social variables affecting the relation with natural and artificial environment.
Ospiti
PIERO PELLIZZARO (Municipality of Milano)
He has10 years of experience in climate change policies and urban resilience planning
Currently he is the Milan Chief Resilience Officer and the City Lead for the H2020 Lighthouse project Sharing Cities at the Municipality of Milan
He specialised in Urban Resilience, Environmental Economic Accounting, Energy Scenario and Climate Change Impact Models through his working experience at the Stockholm Environment Institute – Tallinn Office
Italian chemistry, specialized in theoretical and computational chemistry
Published several books about scientific dissemination
In 2003-2009 was Director of Material science Department at Università Milano-Bicocca
In 2013-2019 was Pro-Rector of Research at Università Milano-Bicocca
AGNESE COLLINO (Fondazione Umberto Veronesi, Milano)
Scientific supervisor at Fondazione Umberto Veronesi, Milano
PhD at European Institute of Oncology, Milano